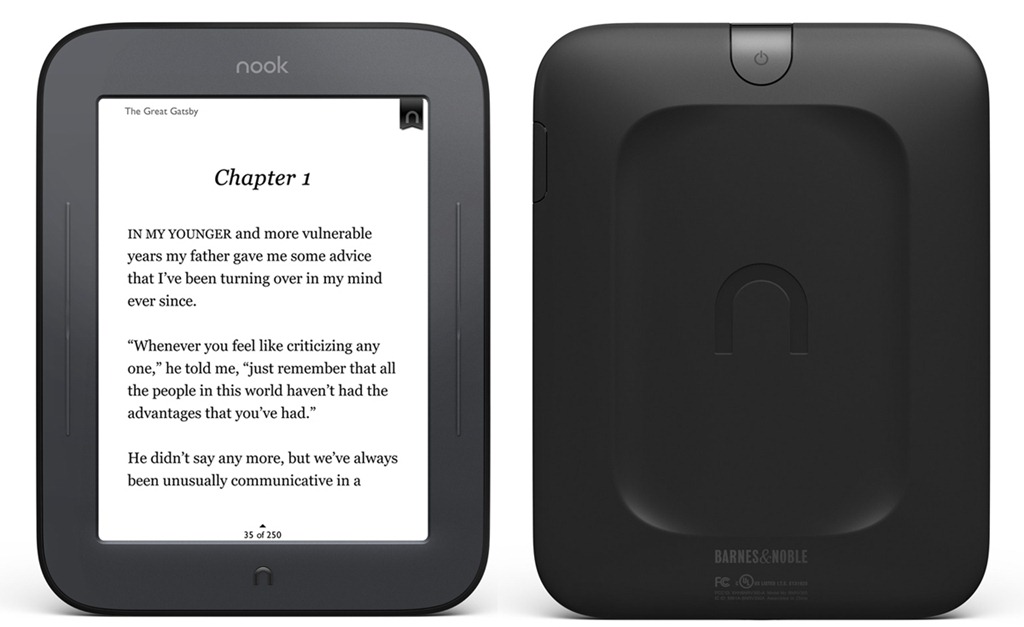 Some of you may not know what an e-reader is, although they're becoming increasingly popular so that number is probably very small. But here's a quick overview just in case. An e-reader, e-book reader, or e-book is an electronic device made to read books on. Typically these devices use E Ink technology for the screens, which means there is actual ink on the inside of the device with no back lighting to reduce eye strain and evoke a real reading experience. These are different from tablets in that they are meant to be reading devices, not little computers.
The e-book reader pictured above is the Barnes and Noble Nook Simple Touch reader. Or, more simply, the Nook 2. Barnes and Noble has two different Nooks on the market right now, one being the one pictured and the other being the Nook Color, which is closer to being a tablet than an e-book, in my opinion. The screen on the Nook Color is not E Ink, just a regular LCD instead. It's got a lot of nice features, not necessarily centered around reading.
My First Generation Nook, with a pretty multicolored leopard print skin.
I actually own the first generation Nook, the predecessor to the Nook Simple Touch, which sported both an E Ink screen
and
an LCD touch screen. The touch screen was used to control the device and the E Ink screen was where you viewed all the content. I really liked my e-reader for about the first year that I owned it but now the new kid is on the block and it's catching my eye. Barnes and Noble made some great improvements to the Nook with the Simple Touch and it's making me give mine a side eye. Even though mine is so cute!! Now I just want to newer, slimmer, faster, lighter version of the device I have. Anyone wanna drop $139 to get me one?? :-D